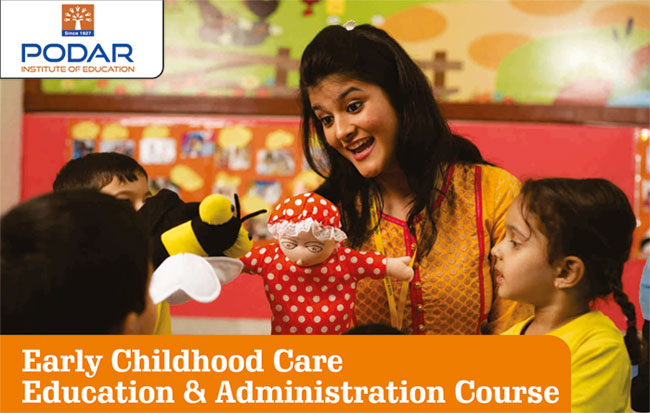 Programme Overview
The Early Childhood Care, Education and Administration Course is designed to prepare learners to work with children between birth to eight years. The Early Childhood Care and Education course aims to provide theoretical knowledge and an understanding of principles of early childhood education, based on child development. This course enables the learners to acquire attitudes and skills to work with children from 0-8 years using play way methods. This course will equip learners to organize, plan and administer preschool programs and work effectively with parents and the community.
What are the entry requirements?
Learner should be at least 16 years old and have passed the 12th exam.
How long does it take to complete the course?
It is a one year programme.
How is it assessed?
Students will be assessed on their individual work for every module in the programme through interactions, tests, and submissions of different projects.
Certification
On completion of the Programme, the learner will be awarded a Diploma in Early Childhood Care, Education and Adminstration by Podar Institute of Education.
Is internship compulsory for this course?
Yes, Learners must intern for four hours a day, five days a week.
What if a learner is already working as a early year teacher?
Then, the learner's work hours will be considered as internship hours.
Module Synopsis
Paper 1
Evolution of Early Childhood Care, Education & Different Early Childhood Approaches & Philosophies
Module 1 - Early Childhood Care and Education.
Module 2 - Contributions in Development of ECCE.
Module 3 - Trends & Policies in ECCE.
Module 4 - Child Rights
Paper 2
Child Development (0-6 Years)
Module 1 - Overview of Child Development
Module 2 - Different Aspects of Child Development
Module 3 - Common Behavioral concerns in Early Childhood
Paper 3
Principles Pedagogy And Programme Planning in Early Childhood Education
Module 1 - Essential Aspects and Methods of Pre-School Education
Module 2 - Engagement and Strategies for Development in Different Domains, Teaching and Learning Resources
Module 3 - Planning and Evaluation
Paper 4
Methods and Materials
Module 1 - Play
Module 2 - Music
Module 3 - Creativity & Art
Module 4 - Outdoor Play
Module 5 - Puppetry
Module 6 - Teaching Aid
Module 7 - Story Telling
Module 8 - Technology in Early Childhood Education
Paper 5
Health, Hygiene, Safety and Nutrition
Module 1 - Child Health, Hygiene & Nutrition and its importance
Module 2 - Elementary Principles of Nutrition.
Module 3 - Health Programme and Hygiene in the School
Paper 6
Preschool and Daycare Design and Management
Module 1 - Concept of Administration
Module 2 - Materials and Safety
Paper 7
Establishing Relationships with Parents and Society
>Module 1 - Relationships among Parents, School and Society